hörbert – origin of a whole market segment
Founding of the company on 09.02.2011, entry in the Stuttgart Commercial Register on 15.02.2011. This is the starting signal for the now 10-year, very successful career of hörbert, invented by company founder Rainer Brang.
hörbert is the world's first music player designed especially for children and sustainably made of wood. And to this day, no one else is so quick to imitate this truly sustainable concept, because it is still the only MP3 player for children whose body is made of real solid wood. Environmental love and high-quality listening fun for young and old – and all Made in Germany. For 10 years!
We invite everyone to celebrate with us!
The anniversary fun has already begun with a musical gift from us to you: The hörbert song "Freund fürs Leben" (means: friend for life). Simply download it, put it on hörbert or stream it and dance, sing and rock along…
And be sure to take part in this year's big fan campaign, the hörbert participation video!
Download now! hörbert song "Freund fürs Leben"
How everything started
A brief look back at 2009: Family man Rainer Brang was fed up with his son's short-lived plastic toys. The result: the birth of the first hörbert, the world's first audio player made of wood especially with child's play and intuitive handling.
12 years have now passed since the software developer came up with the overall concept and developed the electronics for hörbert. He carpentered a wooden box, milled holes for the loudspeakers, buttons and keys and screwed the whole thing together with a handle and a self-made circuit board. The highlight: the selection of playlists via nine colourful buttons is unique and intuitive to use. Children can operate Hörbert independently and without help from adults. This means more autonomy for the little ones and their parents. The specially developed software for playing the buttons makes it easy for children to fill the player with their own listening content. Without any dependence on licensing models.
In 2011 Brang is going all out. He bet 50,000 euros out of his own pocket, founded the company Winzki and produced the music player in series.
You'll find the whole article HERE (in German language)
Rapid growth in the first years
"I remember how excited I was," says Rainer Brang, "when I was supposed to send the first hörbert sold through my own online shop. I turned it over in my hand umpteen times to make sure it was perfect."
The first customer is happy and takes hörbert with her as a faithful companion to Siberia, where she moves shortly afterwards and kindly sends us a photo:
What started as a one-man business quickly grows larger and achieves almost exponential growth in the first 7 years. The 3-room attic office in Stuttgart Vaihingen soon becomes too small. 2012 is not only the year of the sales launch in other European countries, but also the year of the first move into 200 sqm premises in Nürtingen-Neckarhausen.
In 2014, the staff grows to three employees, including a trained carpenter, because a wooden product also needs a professional in the house.
hörbert in the Museum of Modern Art (MoMA) in New York
In 2014, everyone was thrilled when an enquiry came from the USA: the famous Museum of Modern Art in New York took notice of hörbert: it was soon to enrich the "Art Lab", a room with special design for children to touch and try out.  From October 2014 to August 2015, hörbert will pass through many thousands of children's hands at the MoMA. The idea of exporting to the USA is definitely there. What is also there, however, and difficult for a small company without a big investor in the background, are extreme export hurdles, disposal fees for electronics, licences and so on. Depending on the nation to which one wants to export, the initial costs are in the four- to five-figure range. Therefore, the international expansion plan is initially limited to the expansion of the European market.

Winzki and hörbert in public
In January 2016, hörbert celebrates its debut at the International Toy Fair in Nuremberg – and with a double appearance! It is exhibited both on our stand with the young and innovative companies Baden-Württemberg and in a special exhibition area, the TrendGallery. hörbert made it there because a jury of ten journalists and market researchers chose it for the "Design to Play" category. We are very proud of our hörbert!
2016 is a very eventful year. The demand for the unique MP3 player made of wood increases. Soon the premises are bursting at the seams and a move is due. We move from 200 to 600 square metres to Frickenhausen in the former Stribel area, which had been converted into a business park.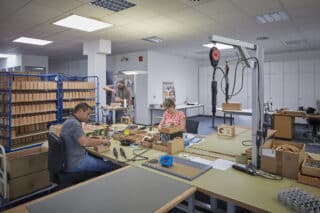 hörbert collects awards
Since we're on such a roll right now, we're applying for this year's KfW Award and want to become a GründerChampion (=Founder Champion). One thing to know about the competition is that every year KfW Bank, under the patronage of the German Federal Ministry of Economics and Technology, selects one company per federal state as the "GründerChampion". The state winner is distinguished by innovative products as well as creative and sustainable business ideas with social added value. The jury consists of high-calibre representatives from politics and business, state development institutes and chambers of industry and commerce.
Our efforts are crowned with success: on 6 October 2016, Rainer Brang receives the award for WINZKI and hörbert and is named GründerChampion Baden-Württemberg in a ceremony at the Federal Ministry for Economic Affairs and Energy in Berlin.
With this prize in our pocket, however, we are far from resting in 2016.
In November 2016, we will present hörbert at the games fair in hörbert's birthplace Stuttgart.

2017 to 2019: The success story of Winzki and hörbert takes its further course
On 3.10.2017 we take part for the first time in the door-opening day of the German TV programme "Sendung mit der Maus". Everything is lovingly prepared by the hörbert team for the little visitors and their parents. Young and old alike will be amazed at how a wooden box can be turned into an MP3 player. As a hands-on activity, a music box is made out of wood.
Once again, it's getting too crowded for us. It makes us happy that more and more people out there think like us, share our values and decide in favour of a sustainable, durable, child-friendly MP3 player made of wood for their children. Conveniently, there are larger halls for us in the industrial park in Frickenhausen.
Therefore, we are moving to 1,500 sqm just in time for the Christmas business 2017..
Now we have plenty of space for all our hörberts and employees and it is relaxed to pack and ship in the new packing line :-)
After the 10,000 hörbert was produced in 2017 and donated to the children's ward of the Filderklinik together with its brother, the 10,001 hörbert, the 20,000 hörbert will follow in 2018!
The WINZKI team has grown to 20 people.
Because we love contact with our fans and customers, we will be taking part in the Blickfang trade fair in the Liederhalle in Stuttgart in 2018.
Another highlight of 2018 is the selection for the RTL inventor show "Hol dir die Kohle" (means: Get yourself the cash) Rainer Brang presents his invention together with his son Martin, for whom he built the first prototype in 2009. The two receive the necessary votes from the audience to advance one round and the wall opens. Unfortunately, it is not enough for the final victory – but: Being there is everything! It is a very exciting and thrilling experience for father and son and an event that will make hörbert even better known :-).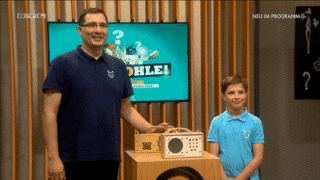 2019 passes for us with busy production and a participation in the accompanying exhibition at the "Kindergarden Leadership Congress" at the Haus der Wirtschaft in Stuttgart.
Because we enjoyed the scurrying and amazement of our little guests at the first Mouse Day in 2017 so much, we will participate again in 2019 in the door-opening day of the "Sendung mit der Maus" on 3 October. There will be a morning and an afternoon session, each with 10 accompanied children. Again, it's a lot of fun and great, lasting impressions come out of it:
In October, things will get exciting again for a completely different reason!
We receive a letter from Stiftung Warentest stating that hörbert has been selected for the music player test for children and is already being tested. Of course we are very excited, answer all the questions of the testers and are waiting like a hawk for the test results.
23.10.2019 will always be a memorable day for us! First thing in the morning, we call up the test that will be published on that day. We did NOT find out beforehand what the test result was and, like everyone else, we have to download the test!
Hurray !!! Hörbert is the sole test winner with an overall score of 1.8 – far ahead of all other test candidates. What a terrific news, which we celebrate extensively for several days afterwards.
All the work, effort, our values – we see ourselves wonderfully confirmed in what we do and think. This gives us energy and momentum again for all the challenges ahead!
hörbert helps in the Corona-year 2020
Who would have thought that the new year 2020 would hold a real challenge. Not only for us Winzkis, but for the whole world! The Corona pandemic is throwing a spanner in the works of many plans.
Disinfectants, constant hand washing, face masks and keeping your distance become part of everyday life. Privately, as well as in the company. Fortunately, we have always been prepared to allow work in the home office if the job permits.
Special events require special measures. So it happens that Rainer Brang immediately agrees when an acquaintance asks him to support the voluntary open-diy-project of the local maker scene and to make the face shields for the FaceShields with the company's own laser cutter.
But that's not all: when it turns out that some organisations are only allowed to purchase certified items, Rainer Brang unceremoniously develops his own face shield, the ShieldKit, has it certified in the testing laboratory and offers it on the broad market.
The year is passing under great private and professional challenges of all. We very much regret that many of our sales partners have a hard time because they have to close their shops. In the course of the VAT reduction in Germany, we also lower our prices for end customers by 3% for the first time in hörbert's history. At the same time, we are launching an aid project in cooperation with the non-profit, international aid organisation PLAN: at the end of the ordering process, every customer has the opportunity to donate the 3% VAT saving or another desired amount. Donations can also be made without actively placing an order on our website. In this way, 557 EUR are collected in just under half a year, which we increase to 1000 EUR.
We are holding our own and our fans are loyal and recommend hörbert to others many times over. That's why we're finally implementing our Friends-Recruit-Friends Programm and say THANK YOU!
The Jubilee Year 2021
The pandemic is still not over and continues to stubbornly determine our everyday lives.
But we will not let it get us down! With our combined forces and all possible private and social efforts, we will hopefully succeed in gaining the upper hand over this nasty virus in the not too distant future.
We will celebrate our 10th anniversary in any case, even if in a completely new way, since we can't meet in person to celebrate!
This anniversary year will hold many surprises in store for our loyal fans and new customers.
Sign up to our Newsletter to never miss any news!
We say THANK YOU for 10 great years!
Kindest regards
your
hörbert-Team
We are looking forward to your comments on this blog post and of course also to entries in our guestbook. :-)