How to do a reset for hörbert
The reset can only be done with the hörbert model 2021 via the SET function. It has the effect that hörbert is reset to the factory settings.
This SET template, which is supplied with a new hörbert, shows which functions can be activated/deactivated via which button in SET mode.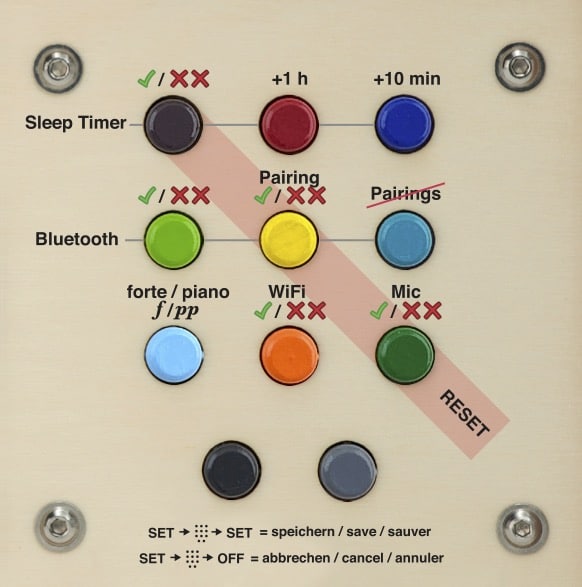 This is how the reset works 
colour-coded by the light red stripe across the SET stencil:
– Switch on hörbert, it plays from its loudspeaker.
– inside hörbert, press the small SET button 1 x, the LED lights up solid green and hörbert becomes mute. The front buttons are now in SET mode.
– Press the diagonal of the three buttons dark purple, yellow and dark green all together, starting with the first row on the far left at dark purple.
– A short series of beeps will sound to confirm.
– Important: at the end, press the SET button inside again to save.
What does the RESET do?
– The sleep timer is off
– Bluetooth is off
– Pairing is off
– No previous pairings are stored and devices must be paired again.
– hörbert is set in Forte mode
– WiFi is off
– The voice microphone is off.
– hörbert has no more saved WLAN data. The WLAN data (network name and password) must be written to the memory card again via the hörbert software and read into hörbert via the SET mode. To do this, switch on hörbert, press the SET button on the inside, press the orange button on the front for approx. 10 seconds until you hear a confirmation tone -> press the SET button again to save.
The reset has no influence on the other settings of the memory card. So if you have enabled certain buttons for Bluetooth / voice microphone / WiFi recordings, these enablements will remain after the reset. When Bluetooth and pairing, as well as WiFi, are reactivated, streaming, radio listening and recording can take place again.
Further notes on the SET mode:
Once you have pressed the SET button inside, you can now directly set all the desired SET functions at once and only press the SET button again at the very end.
There is a time-out in SET mode after about 5 minutes. If you have not pressed the SET button again within 5 minutes, hörbert switches off with a signal tone and the settings are discarded. It is therefore important to make the desired settings according to the SET template within this period of time and to press the SET button again at the end to save.